24-25 November 2020
The TV coproduction Inter-Rives 8 "SustainAbility: Stories of Changemakers" was officially launched at the end of November.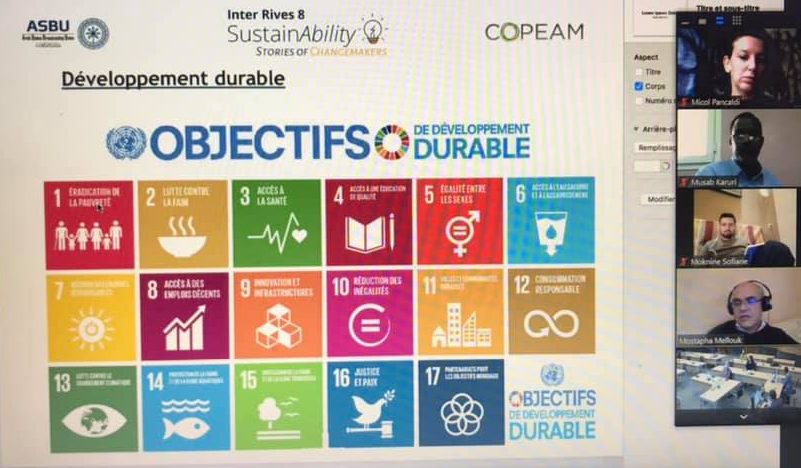 This new edition of COPEAM/ASBU flagship project aims at collecting short documentaries of 13', available as a series for all the co-producers on the basis of the "make one, take all" formula. Inter-Rives 8 will bring to the public a collection of stories of men and women who, with their particular skills, ideas, initiatives and efforts in different fields, have taken action for a more sustainable society all over the Mediterranean Region and beyond.
14 TVs belonging to COPEAM and ASBU networks are taking part in this edition:
BNT-Bulgaria, ERT-Greece, HRT-Croatia, Rai-Italy, RTVSLO-Slovenia, RTVE-Spain, RSI-Switzerland, EPTV-Algeria, JRTV-Jordan, NMA-Egypt, PBC-Palestine, SNRT-Morocco, Sudan TV, Télévision Tunisienne-Tunisia.
After a delay of a few months due to the Covid19 pandemic, the first coproduction workshop finally took place online on November 24 and 25, gathering the selected film directors, COPEAM and ASBU project team and the two experts traditionally appointed to this activity: Markus Nikel and Moustapha Mellouk. The meeting focused on the discussion of the editorial framework of the coproduction and on a first debate on the documentary topics, which will be further developed in the following months.
A final workshop will take place in Spring/Summer 2021 after the production phase, for a joint screening of all products of this new series.