Bucharest, 2 October 2019
Radio Romania organizes on Thursday, October 3, the fifth edition of the Media 2020 Conference, jointly with the Asia-Pacific Broadcasting Union (ABU). The event brings together over 40 representatives of major public media organizations in Europe and Asia-Pacific. Dr. Javad Mottaghi, ABU Secretary General, Graham Ellis, Director of BBC Radio, Chairman of the EBU Radio Committee and Prix Italia President, Dr. Yan Bo, Deputy Director of CCTV, China, Claudio Cappon, Secretary General of COPEAM-Permanent Conference of the Mediterranean Audiovisual Operators, Giacomo Ghisani, Deputy Director of Radio Vaticana, are among the prominent media professionals and leaders attending the event in Bucharest.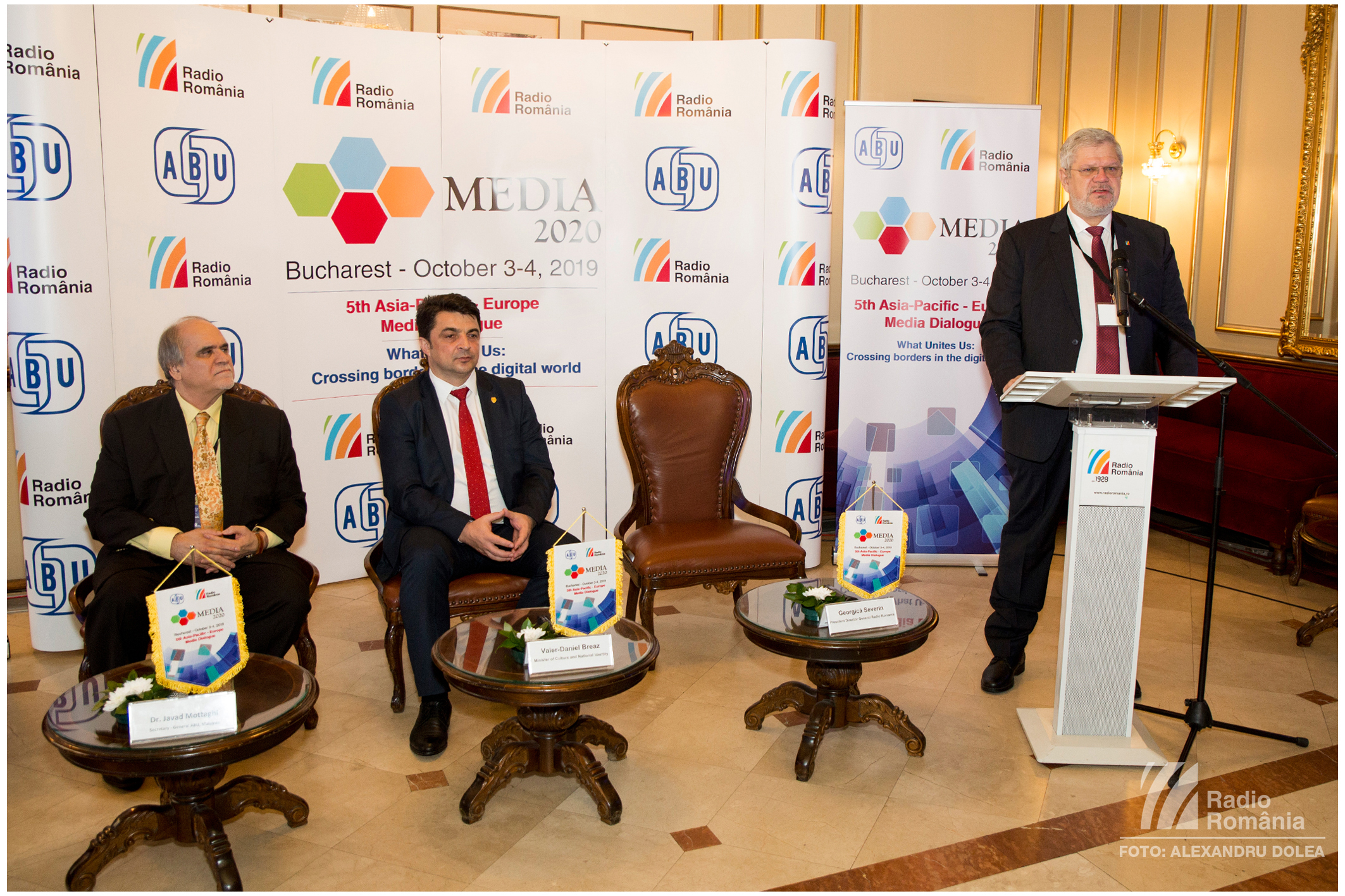 An already traditional event in the media dialogue between Europe and the Asia-Pacific area, the Media 2020 Conference, organized since 2015 at the initiative of Radio Romania, in partnership with the Asia-Pacific Broadcasting Union, stands out as one of the most open and constructive platforms of dialogue between Europe and Asia at media level, and is organized, every year, alternatively by Romania and an ABU member country in the Asia-Pacific area. Since its first edition, the conference is aimed at making public-media broadcasters familiar with concrete strategies in order to cope with the challenges of the new digital era. 2020 has been set as a landmark year and this year's conference is titled "Crossing Borders in the Digital World".
The debate sessions will focus on the future of public media in the digital era, strategies to protect copyright and fight fake news. Adapting radio to the new digital context, 5G technology, promoting cultural diversity and collective memory between the East and the West by using new digital technologies will be other focal points on the agenda of the conference.
The conference will be opened on Thursday, October 3, at 09:00 AM, by Dr. Javad Mottaghi, Secretary General of Asia-Pacific Broadcasting Union and by Georgică Severin, President Director-General of Radio Romania, with the participation of the Minister of Culture and National Identity, Valer Daniel Breaz.
At the start of the conference, Radio Romania and BBC Radio will sign a bilateral agreement meant to develop a creative cooperation partnership between the two institutions. The exchange of ideas and good practices, common solutions to fight disinformation, capitalizing on modern storytelling, tight cooperation to share cultural and life experiences with the audience in Romania and Great Britain, as well as creative solutions to attract new generations to the public media are key elements of this partnership, which follows those established with Radio France and RAI, and is part of Radio Romania's strategy of cooperation with the most prominent media institutions in Europe.